3. Richard Wilkerson (Etats-Unis)
---
3. 1. Saving the Cliffs
22/12/6 ?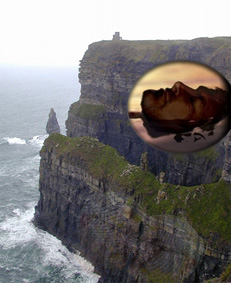 I'm at a school that is located near some cliffs by the sea. I'm on the side of the class, not a full student. If I want I can do the project that the teacher is assigning to the students. My mother has sent me a white jar of probiotics, which sits in the lab refrigerator. I feel somewhat frustrated trying to come up with how I would state the null hypothesis. My mind feels slow and nothing is coming to me. The teacher and I go outside to the cliff, they are very high and its somewhat stormy (I'm reminded of the Irish Cliffs of Moher).
The teacher, or some other voice is narrating a story about how these and other cliffs really get people excited, saving them, and that they get so emotional about it they sometimes throw themselves off the cliffs. As I walk out on the cliff, I feel a deep connection with the cliffs and understand how people could throw themselves off in tribute. But I decide not to so this myself and return to the classroom.

Comments
Cliffs in need of saving like old lighthouses ? An odd image, I will return to this. I am no stranger to the struggle with the balance of acquiring concepts v.s. going out and using them. This is also a global issue, when to act, throwing ourselves into the numinous winds of the worldly sea of action, and when to accept the gifts of the Mother that, once understood, prove to be pro-life/biotic.
It is interesting that probiotics help us digest it all. And have we been using the metaphor the the world on the edge of a cliff too much, and now there is a cosmic compensation that valorizes these same cliffs ?
The rational mind has difficulting finding the null hypothesis, so all I can say at this time is, "Pro-Biotics" and "Save the Cliffs !"


Richard Wilkerson : [email protected]

Rêve précédent
Previous dream

Back to summary
Retour au sommaire

Rêve suivant
Next dream