STORIES OF WALLS
Histoires de murs
Le 13 août 1961 commençait la construction du mur de Berlin, en pleine guerre froide, sous les yeux consternés du monde entier. Le 9 novembre 1989, c'était la chute du mur de Berlin. C'était un signal fort d'ouverture du monde à la liberté. Ce jour a été vécu dans le monde entier comme un jour de paix, d'espoir en l'avenir de l'humanité.Cet espoir aura été de courte durée...
Dès 1994, Israël se construisit une barrière de 52 kilomètres le long de la bande de Gaza, acte suivi en 1995 par la construction pharaonique d'un mur de séparation entre Israël et la Cisjordanie.
J'ai pu contempler ce mur de 8 mètres de haut de mes propres yeux lors d'un voyage en Israël, en janvier 2005. Je confirme : c'est bien comme ça !
Eh bien, ce mur de la honte a dû inspirer les Américains. En effet, le 16 décembre 2005, la Chambre des représentants des Etats-Unis d'Amérique a voté à 260 voix pour et 159 voix contre la construction d'un mur de 5 mètres de haut le long de la frontière mexicaine. La première tranche sera de 1100 kilomètres. Ce sera en fait une extension des portions de mur existantes, comme celle de Tijuana.
Comme l'a dit le républicain Tom Tancredo : "Le plus beau cadeau de Noël pour le peuple américain serait des photos de béton en train de couler." Ben voyons ! Donc, les riches s'enferment dans des murs de béton en Israël et aux Etats-Unis. Au Japon, ce n'est pas la peine : c'est une île.
Et nous, en Europe ?
Pas de soucis. On renforce notre dispositif dans les enclaves espagnoles de Ceuta et Melilla au Maroc. On rajoute des radars, des caméras infra-rouge, des fils de détection et des diffuseurs automatiques de gaz lacrimogène.
Vous pouvez dormir tranquille, les pauvres ne pourront plus passer par là...
Pour en savoir plus :
1. Berlin Wall (Wikipedia)
2. Israeli West Bank barrier (Wikipedia)
3. US House votes to wall up Mexico border (Yahoo news)
4. House approves Mexico-US fence ! (Mich news)
5. Mexico fumes over U.S. border fence plan (Chicago Tribune)
6. Opinions split on proposed border fence. Many in Mexico and some in U.S. against House plan (SFGate)
7. Environmentalists to Appeal US Border Fence Ruling (Planet Ark)
8. EU outposts turn into fortresses (BBC news)
9. Spain reinforces enclave borders (BBC news)
Source (le blog de Luc) : http://droitdanslemur.blogspot.com/
*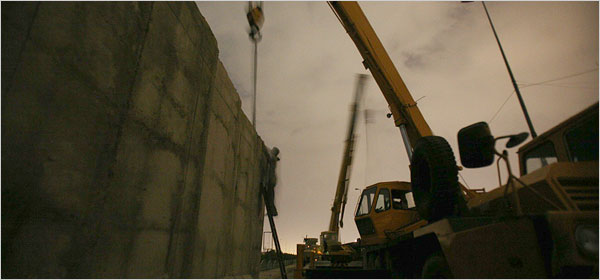 U.S. Begins Erecting Wall in Sadr City
By MICHAEL R. GORDON

BAGHDAD — 18/4/8 - Trying to stem the infiltration of militia fighters, American forces have begun to build a massive concrete wall that will partition Sadr City, the densely populated Shiite neighborhood in the Iraqi capital.
The construction, which began Tuesday night, is intended to turn the southern quarter of Sadr City near the international Green Zone into a protected enclave, secured by Iraqi and American forces, where the Iraqi government can undertake reconstruction efforts.
"You can't really repair anything that is broken until you establish security," said Lt. Col. Dan Barnett, commander of the First Squadron, Second Stryker Cavalry Regiment. "A wall that isolates those who would continue to attack the Iraqi Army and coalition forces can create security conditions that they can go in and rebuild."
On Wednesday night, huge cranes slowly lifted heavy concrete blocks into place under a moonless sky. The barriers were implanted on Al Quds Street, a major thoroughfare that separates the Tharwa and Jamilla districts to the south from the heart of Sadr City to the north.
The avenue was quiet except for the whirring sound of the cranes and thud of the barriers as they touched the ground. Contractors operated the cranes, but American soldiers transported the barriers on trucks and directed their placement.
The team building the barrier was protected by M-1 tanks, Stryker vehicles and Apache attack helicopters. As the workers labored in silence, there was a burst of fire as an M-1 tank blasted its main gun at a small group of fighters to the west. An Apache helicopter fired a Hellfire missile at a militia team equipped with rocket-propelled grenades, again interrupting the night with a thunderous boom. A cloud of dark smoke was visible in the distance through the Stryker's night-vision system.
Concrete barriers have been employed in other areas of Baghdad. As the barriers were being erected in other neighborhoods, some residents said they feared being isolated. But walls have often proved to be an effective tool in blunting insurgent attacks.
American and Iraqi forces here say they have been battling Iranian-backed groups and militia fighters who support Moktada al-Sadr, the anti-American cleric. Much of Sadr City has become a sanctuary for such militias. Prime Minister Nuri Kamal al-Maliki's recent offensive in Basra led to an increase in rocket attacks on the Green Zone.
Many of the Shiite militias that the American and Iraqi forces have been battling in the Tharwa area of Sadr City in the past several weeks have been infiltrating from the north. Al Quds Street has become a porous demarcation line between the American- and Iraqi-protected area to the south and the militia-controlled area to the north.
The avenue has been filled with numerous roadside bombs that American teams in special heavily armored vehicles have sought to clear. The militias have stacked tires on the road and turned them into burning pyres to hamper the American infrared surveillance and targeting systems or to soften the concrete to make it easier to bury bombs.
With a sandstorm hampering reconnaissance drones and grounding helicopters, work on the barrier was suspended Thursday, but the military intends to resume work as the weather improves.
The swirling dust storm, which turned the sky into a gritty beige, proved to be a boon to the militias. Calculating that they would ground the Americans helicopters and interfere with the reconnaissance drones, militias assaulted the northernmost Iraqi Army positions.
Iraqi troops, who are manning strongholds hundreds of yards ahead of the American positions, reported that they had run desperately low on ammunition, according to tactical radio reports.
American commanders were eager to avoid a repeat of the setback Tuesday evening when one Iraqi company abandoned its position to the front of American forces. That area was reclaimed the next day by a different Iraqi unit, but the episode gave militias temporary control of a critical stretch of road and a fresh opportunity to plant roadside bombs.
The militias' main effort on Thursday was focused on dislodging Iraqi forces from a police station. American advisers took up positions with the Iraqi unit.
As the fighting intensified and there were reports that militia fighters had closed to within 100 yards, Colonel Barnett moved tanks into position so they could rush to the Iraqis' aid. Stryker vehicles also moved forward.
But two Iraqi T-72s and four other Iraqi armored vehicles arrived on the scene before the American tanks were needed. The Iraqi Army has rushed ammunition to Sadr City, including machine-gun rounds and rocket-propelled grenades to give its units more firepower and address complaints of shortages.
Three Iraqi soldiers were reported killed Thursday when a militia fighter sneaked up close enough to a position they were guarding to lob a grenade, American officers said. There was such a heavy volume of Iraqi Army fire, however, that American commanders were not able to determine the scale of the attacks and whether they were as severe as the Iraqi forces had reported.
While the American military hopes to turn the southern portion of Sadr City into a protected enclave so that reconstruction can proceed, there has been no indication that the Iraqi government has mounted such efforts in recent days.
During a joint patrol conducted by Iraqi Army soldiers and American troops from the First Battalion, 14th Infantry Regiment, 25th Infantry Division on Tuesday, residents complained vociferously about stagnant pools of water, downed power lines and piles of garbage.
The Americans sought to persuade the Iraqis that they were just as eager for the Iraqi government to fix the infrastructure and restore water and electricity.
"We are not stopping governmental services from coming in here," Lt. Matthew Schardt, the commander of First Platoon, Company B, sought to assure one distressed woman. "We want them to come in here." The American military plans to hire 200 Sadr City residents to clean up trash for a 75-day period. So far, it has hired about 90, Colonel Barnett said. But the program is seen as a stopgap effort.