6. Richard C. Wilkerson (Etats-Unis)
---

21/12/08
Psychic Reading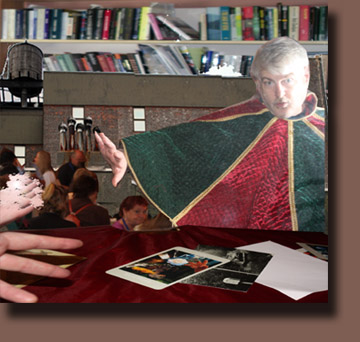 I'm with a group of students and friends. We are off to class and have to cross through an old warehouse district.
We go into one of the buildings to cross the area and come into a large open area, partially outside, like a hanger for a zeppelin or large aireoplane.
There is a man there standing behind a table, and someone tells me he is a psychic. I look at the table and the man has several items, cards, written materials, cuttings from newspapers and some other loose papers.
Because I'm in a hurry to get to class, I dismiss the items on the table, saying to myself they aren't relevant.
But as we move along to the classroom, I can't get them out of my mind. What where they ? Was he predicting my personal future or for some larger organization ? This warehouse district seems endless and I can't imagine getting to class on time. end of dream
-
Version française (Babelfish)
Je suis avec un groupe d'étudiants et d'amis. Nous ne sommes pas en ligne classer et devons croiser par une vieille zone d'entrepôt. Nous entrons dans un des bâtiments pour traverser le secteur et pour hériter un grand terrain découvert, partiellement dehors, comme un cintre pour un zeppelin ou un grand aireoplane. Il y a un homme se tenant là derrière une table, et quelqu'un m'indique qu'il est un psychique. Je regarde la table et l'homme a plusieurs articles, cartes, matériaux écrits, découpages des journaux et quelques autres papiers lâches. Puisque je suis dans une hâte à obtenir de classer, j'écarte les articles sur la table, dire à me ils aren' ; t approprié. Mais comme nous nous déplaçons le long à la salle de classe, I can' ; t les obtiennent hors de mon esprit. Ce qui où ils ? Prédisait-il mon futur personnel ou pour une certaine plus grande organisation ? Cette zone d'entrepôt semble sans fin et I can' ; t imaginent obtenir de classer à l'heure. fin de rêve
Commentaires
Preoccupations with prediction and speculation abound. It may be some time before we reach the classroom. Signs appear everywhere, hopefully together we will learn about them.
-
Version française (Babelfish)
Les préoccupations de la prévision et de la spéculation abondent. Il peut être un certain temps avant que nous atteignions la salle de classe. Les signes apparaissent partout, si tout va bien ensemble nous se renseigneront sur eux.

Rêve précédent
Previous dream

Rêve suivant
Next dream